Aluminum circle is the basis products of the aluminum metal, it is the foundation of aluminum model and the beginning form, aluminum circle is widely used in industrial production of various kinds of products, aluminum circle is for the user in the form of cold extrusion production produces various specifications of the capacitor shell, hose and aluminum shell, aluminum circle is widely used in electronics, daily chemical, medicine, culture and education, and auto parts. Electrical, heat preservation, mechanical manufacturing, automotive, aerospace, military industry, mold, construction, printing and other industries, Haomei aluminum circle are sold to more than 40 countries and regions such as southeast Asia, Africa, Europe, the United States, Australia, and so on.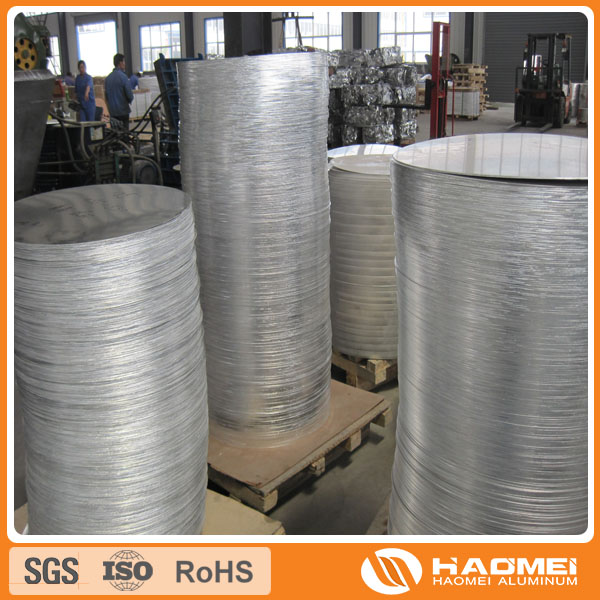 Aluminum circle is smooth, it is an almost perfect circle.How is aluminum circle produced? What is the production process? It is actually very simple, aluminum circle is produced with a punch. The crank press or mechanical press, open type tilting press, open type fixed press, closed single/double/four-point press, etc. The four-column fluid (oil) pressure machine, etc. The process and stamping process of aluminum circle is:
1, the cutting blank (cut into square shape)
2, blanking (cutting into the circle you want)
If the material is in coils type, then add a open coil process in front of cutting.
Commonly used aluminum alloy material in manufacturing aluminum circle has 5 features compared to other metal.
1, Low density, the density of aluminium and aluminium alloy closer to 2.7 g /, about 1/3 of the iron or copper.
2, High strength, aluminium and aluminium alloy has high strength. After a certain degree of cold working can reinforce concrete strength, part of the brand of aluminum alloy can also strengthen by heat treatment.
3, Good conductivity and thermal conductivity. The conductivity and heat conduction performance of aluminum alloy is second only to silver, copper and gold.
4, Good corrosion resistance. The aluminum surface easy natural produce a dense solid layer of AL2O3 protective film, can protect the substrate from corrosion well.
5, Easy to processing. If the aluminum alloy is added some other alloy elements, can obtain good casting properties of the casting aluminum alloy or processing plastic deformation aluminium alloy.