Aluminum coil stock for gutters is an integral part of the water system, and it needs to be used with the downpipe to achieve the effect of water drainage. The horizontal groove-shaped drainage ditch under the eaves is used to receive the rainwater from the roof, and then lead it to the ground through the vertical pipe. The gutters are divided into outer gutters and inner gutters. Generally, the size of the gutters can be determined according to meteorological data, gutter precipitation intensity and drainage speed, rather than the building area.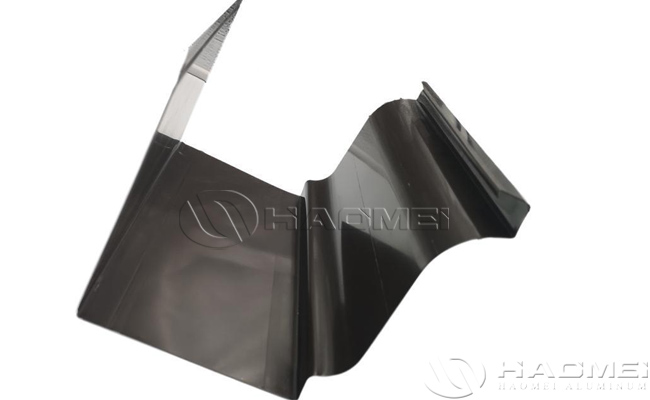 The aluminum coil stock for gutters are used for manufacturing gutters for building, and it is often color coated, which colors are brown, copper, grey, white, off-white and so on. The color coated aluminum gutters are welcomed on the market.
Features of finished gutters processed from aluminum gutter coil in use are:
1, Strong durability
The first characteristic of color coated aluminum gutter is durability. Steel gutter are commonly used, but they tend to break down after five years. However, the color coated aluminum gutter is more durable and does not rust. Most gutters made of aluminum will last 50 years. In addition to their durability, these gutters are easy on the pack in your wallet.
2. Low cost
Another advantage of color coated aluminum gutters is low cost. They are a gutter waterproofing practice. Some steel gutters can cost as much as $10. Aluminum gutters usually average between $20 and $40. Options aside, you also won't have much trouble with gutters, since you can install them yourself.
3, Easy to install
Color coated aluminum gutters are also easy to install. Steel and copper gutters need to be installed by a professional because they require welded joints for gutter waterproofing practices. Colored aluminum gutters do not require welding during installation. They are also very light, so they can easily change shape during installation.
4, Rich in colors
One of the characteristics of color coated aluminum gutters is color. Most other types of gutters are only available in a limited range of colors. Also, other types of gutters like steel are difficult to paint. Colored aluminum gutters can produce a variety of colors. If you can't find the color you need, we can easily help you paint a suitable color for your roof gutter waterproofing practice.
5, No leakage
One of the characteristics of colored aluminum gutters is that they do not leak. They are designed seamlessly. The seamless gutters are made from aluminum coil stock for gutters rather than combining smaller pieces together. Because these rain gutters have no drains, there is less chance of leaks occurring.