Powder coated aluminum sheet is a new type of material that has recently emerged in the field of wall, roofing, doors and windows. Compared with plastic steel, its biggest advantage is that its firmness is unparalleled, and its colors are changeable. Therefore, it is widely used in the fields of roofing, wall, ceiling, doors and windows, sun rooms, and balcony packaging of high-end real estate.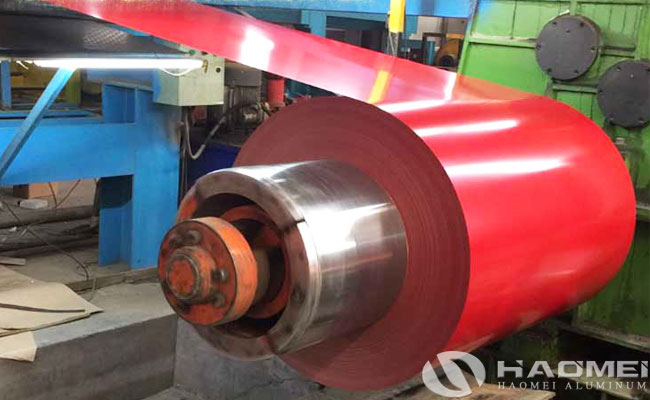 Powder coated aluminum sheet production includes aluminum substrate degreasing, chemical pretreatment and coating process. A typical coating line system requires the product to have formability, beautiful surface, good weather resistance, paintability, etc. The product specification of color coated aluminum sheet are:
Gloss: 10-90%
Coating hardness: greater than 2H
Adhesion: no less than grade 1
Impact resistance: 50kg/cm, no paint peeling and no cracks
Color card: There are 27 kinds of options, and can also be colored according to RAL and Pantone international color cards or customer samples
Color-coated plain colors: such as Chinese red, gray-green, brown, black, white, etc. 12 kinds
Color-coated silver: bright silver, dark silver, golden yellow, pearl gold, copper color, dark champagne, etc. 12 kinds
New coating products: Symphony Gold (Chameleon), Heat Reflective Coating, Anti-scratch Black, White, Wood Grain Board, Tieshu Yinhua, etc.
The surface of the powder coated aluminum sheet is rich in hydrophilic additives, which form a dense paint film structure on the topcoat to prevent pollution. Features and applications of aluminum sheet powder coated are:
1, Excellent decorative performance
2, Special topcoat design to achieve self-cleaning function
3, According to different environments, you can choose a variety of topcoats
4, Various medium and high strength substrates with different coating combinations