PVDF coated aluminium sheet is widely used in the field of building and construction. Building energy conservation mainly improves the thermal resistance and airtightness of the enclosure structure from three aspects, such as external walls, doors and windows, so as to achieve the purpose of saving building energy consumption. Aluminum has good characteristics, and it has been used more and more in building energy conservation, and has broad prospects for future development.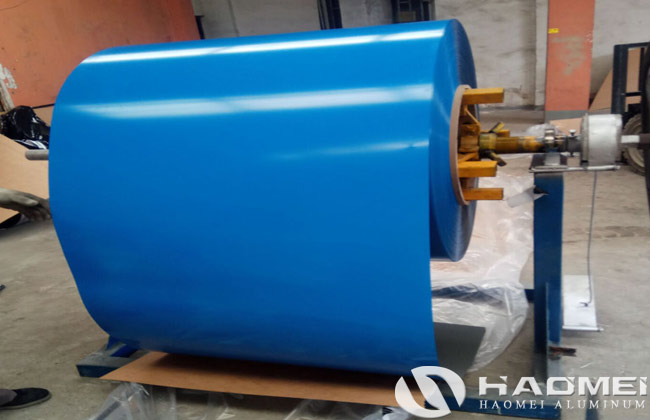 1, Aluminum exterior wall insulation material
In order to meet the national building energy-saving requirements, the current building exterior wall thermal insulation materials will face a comprehensive reform. Color coated aluminum material can be bonded and compounded with foamed polyurethane and honeycomb aluminum for energy-saving exterior building decorative panels. It has the characteristics of small heat transfer coefficient, strong fire resistance and excellent decorative properties.
The outer substrate of the polyurethane thermal insulation aluminum material is PVDF coated aluminum coil, which is processed and formed according to the design. The surface is treated with a fluorocarbon coating recognized by the international construction industry. The inner layer is a rigid polyurethane foam insulation layer, and the inner and outer layers are tightly bonded. It has the characteristics of surface rain resistance, impact resistance, various appearance colors, strong decoration and long service life. It is a new type of advanced exterior wall decoration material integrating thermal insulation and decoration. Polyurethane rigid foam has low thermal conductivity and excellent thermal insulation performance. Its thickness is only one third of that of traditional materials, and its thermal resistance is nearly three times that of traditional materials. An air layer is formed between the body, which has a double thermal insulation effect. The honeycomb core in the honeycomb composite panel is divided into many closed cells, which prevents the air flow and greatly hinders the heat and sound waves, so it has the effect of heat insulation and sound insulation. At the same time, the polyurethane thermal insulation aluminum material and the honeycomb composite aluminum plate are all made of PVDF coating, which has good flame retardant performance.
With the development of technology, fireproof and thermal insulation materials constructed with aluminum materials will be more widely used in future wall materials due to their excellent characteristics.

2, The anti-scratch aluminum paint of aluminum rolling shutter doors and garage doors adopts imported paints with anti-metal scratch performance, which are currently mostly used for rolling shutter doors, garage doors, etc. Aluminum rolling shutter doors and garage doors have three significant functions: anti-theft, thermal insulation, shading, and at the same time, they also have the functions of sound insulation and noise reduction, environmental protection and energy saving, and privacy protection. Roller shutter profiles processed from PVDF coated aluminium sheet are extremely convenient to install, use and maintain, and are widely used in new development projects and existing buildings without damaging the exterior and interior decoration of the building, which can maximize cost savings for customers. At the same time, rich colors, various installation methods and control methods are available for customers to choose flexibly.

3, Aluminum external sunshade curtain system
External shading technology has three advantages: good energy-saving effect, excellent economic effect, and strong artistry. The aluminum roller shutter system has excellent energy-saving and thermal insulation, superior shading and shading functions, certain security and anti-theft functions, good sound insulation and noise reduction, and stylish optional styles. It will become one of the best choices for outdoor shading in the future.