Aluminum trim coil also named as painted aluminum trim coil and coated aluminum trim coil. Coated aluminum trim coil is with good gloss, adhesion and corrosion resistance. It can be divided into Polyester coated aluminum coil and PVDF coated aluminum coil. Aluminum trim coil have many performance features to other materials for decoration. Here we will learn the main classify and the features of Haomei aluminum trim coil.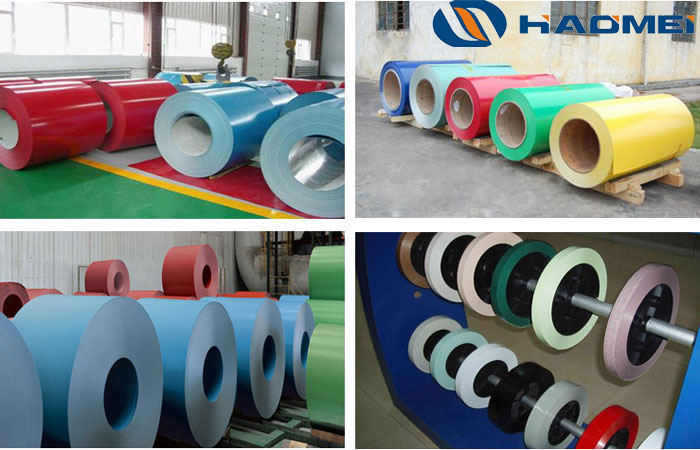 Polyester coated aluminum coil is a kind of resistance to UV ultraviolet coating, polyester resin is used containing ester bond of polymer monomer in the main chain, alkyd resin, UV absorber can be divided into series of inferior smooth and glossy based on the gloss, especially suitable for interior decoration and advertising board. PVDF coated aluminum coil is made of fluorocarbon resin which uses Fluorine ene acetylene as basic monomer, paint, alcohol ester solvent and additive. After high temperature barbecue film, coating in the molecular structure, it has strong weatherability. PVDF coating according to the film surface structure can be divided into traditional fluorocarbon and nanometer fluorocarbon coatings. No matter the polyester aluminum trim coil or PVDF aluminum trim coil, we have many colors and specification for customers to select. So we can cover the products you required and the standards you demand without any doubt.
Haomei aluminum trim coil have features such as coating adhesion to the surface and no off paint. Color is rich, color sense is good and with complete specifications. Infrared temperature uniform heating, isolated from pollution sources. Four roll coating, the film thickness uniformity, colour and lustre is full and with good performance. Qualified aluminum trim coil and timely service are what we can offer you, what you need is contact us by e-mail or phone to get the product details and specifications.