The pre painted aluminum coil PVDF film has high toughness, impact resistance, flex resistance and abrasion resistance. Depending on the coating structure and harsh environment, the light and color loss of fluorocarbon coatings within 10 to 30 years has no obvious difference within the error range allowed by the naked eye. It is the basic material Provide a protective barrier. The fluorocarbon-coated aluminum-magnesium-manganese coil 3003 added to its process is maintenance-free and self-cleaning. The surface energy of the carbon coating is very low. The surface dust can be self-cleaned by rainwater. It has excellent hydrophobicity, a very small friction coefficient, and does not stick. Dust fouling, good antifouling performance.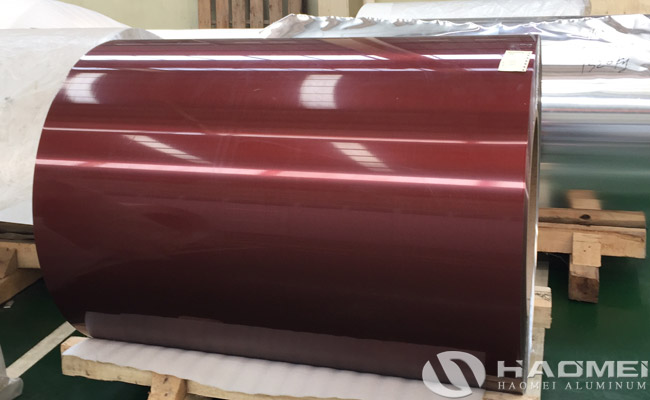 The corrosion rate of aluminum-magnesium-manganese 3003 pre painted aluminum coil is regular, generally fast first and slow later. The coastal environment is humid, so the speed is faster; heavy industry is many times higher than that in mountainous and rural areas; the absence of anti-rust layer and outdoor air will increase the degree of corrosion. The design and use level of corrosion resistance is the next focus of improvement, which involves many problems. For example, the cost, durability, performance and maintenance cost of aluminum-magnesium-manganese 3003 color coated aluminum coil. At this stage, the application of fluorocarbon coated aluminum-magnesium-manganese plates has largely solved this problem.
Since the fluorocarbon pre painted aluminum coil is coated with a fluorocarbon coating containing PVDF resin, its performance is very excellent. Whether it is unit curtain wall or color steel forming, the metal can be bent, overlapped and bent at will during the processing process, and the T-shaped bending can reach 0T. At the same time, the fluorocarbon coating can effectively resist the hot sun, humid weather, urban dirt, acid rain, salt corrosion and other abrasion. Its perfect combination with metal makes the function and form of the material reach the extreme.