5 bar checkered aluminium plate is one of the most widely used and common types of aluminium checker sheet. It can be subdivided into big 5-bar checkered sheet and small 5-bar checkered sheet. And also, 5 bar aluminium tread plate is one of the best selling product in our company.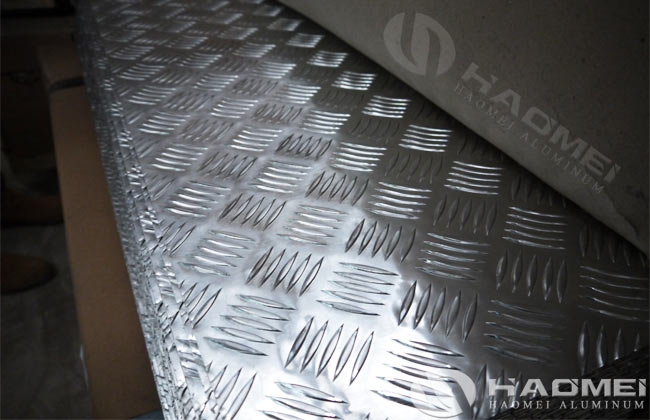 The specification of 5 bars aluminium checkered plate are:
Thickness: 0.8-12mm
Width: 600-2400mm
Material: 1050/1060/1100/3003/5052/5754
5 bars aluminium checkered plate belongs to anti-slip aluminum plate, also known as willow-shaped aluminium tread plate, or rice grain aluminium tread plate. It has good anti-slip ability and is widely used in architectural (floor) platform design. Since the pattern on the surface of the checkered aluminum plate is arranged in a relatively parallel manner according to the five concave and convex patterns, and each pattern exhibits an angle of 60-80 degrees between the other patterns, the pattern has excellent anti-slip performance. This kind of 5 bar checkered aluminium plate has a good anti-slip effect and low cost, since it has the top quality at the same time, so it is an ideal material for industry use. Haomei is a trustworthy checkered aluminium plate supplier base in China, we export aluminum product all over the world, for more information, please write email to us.