5 bar diamond plate supplier offer aluminum plate 5 bars pattern with relatively favorable price and good anti-slip performance. This aluminum diamond plate has five small ribs and five large ribs, and the pattern height is about 0.9 mm. The price of 5 bar aluminum diamond plate is divided into two gears. The first gear is the price advantage of pure diamond aluminum sheet. The second gear is the alloy diamond aluminum plate, the price is higher. In terms of performance comparison between the two, the performance of alloy aluminum diamond sheet is stronger than that of pure diamond aluminum sheet. In terms of price, pure aluminum sheet 5 bar is cheaper than alloy 5 bar aluminum sheet. The main series grades of aluminum diamond plates are, 3003, 6061, 5052 and 5083, and these two grades are in the most demand.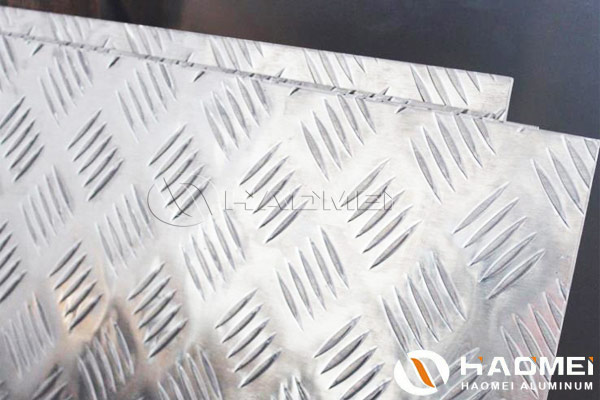 The product features of 5 bar diamond plate supplier are:
1, Novel structure, more surface styles, you can choose to have very good aesthetics
2, Good anti-slip effect. Anti-slip is the main advantage of checkered aluminum plate, and the surface has small bumps and can play an anti-slip effect.
3, The self-weight is relatively light, which is related to the characteristics of the diamond aluminum plate. The aluminum tread plate has a lower density but the hardness can achieve the desired effect.
4, Durability. That is, the life span of raw materials used in ordinary engineering.
5, High elongation, can withstand high-strength bending without breaking and good toughness.
The 5 bar diamond plate supplier is mainly used in the construction industry, with a variety of styles and light weight. In addition, the 5 bar pattern aluminum sheet also has unique anti-skid and corrosion resistance. During the handling process, pay attention to the protection of the corners and the pattern. The aluminum diamond plate is placed at an angle, and the storage environment should be dry, bright, well-ventilated and non-corrosive.