The roll of aluminum coil factory of Haomei Aluminum has mature technology, good quality and low price. The mainly aluminum grade of aluminum coil roll are 1060, 3003, 5052 and 6061. Because most of the 1000 series and 3000 series aluminum coil are mainly engaged in veneer or exterior wall construction, we usually like to compare the two of them. By comparison, it is not difficult to find that the strength of 3003 aluminum coil is about 10%-20% higher than that of 1100 aluminum coil and 1060 aluminum coil, especially 3003 aluminum coil with manganese alloy added, which is all in solvent resistance, corrosion resistance and formability, it is better than the 1000 series.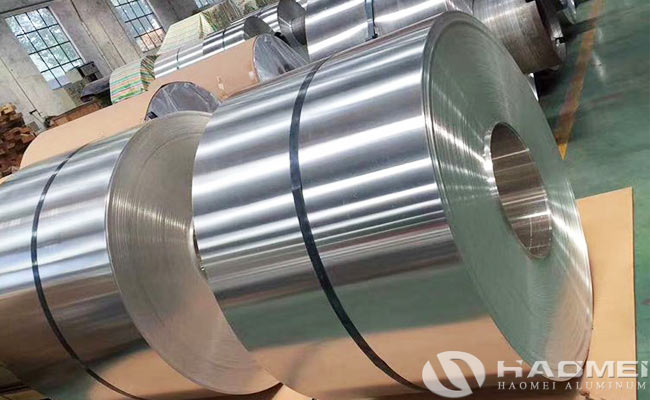 1060 aluminum coil has a flat surface and high cleanliness, it is suitable for polymer welding, has good elongation and tensile strength, and can fully meet the requirements of conventional processing (stamping, drawing), and has high formability. It is widely used in the fields of flexible connection of power battery, aluminum-plastic plate, lamps, signs and so on. The specification of roll of aluminum coil factory:
Typical alloy: 1060 aluminum coil, 3003 aluminum coil
Material status: O, H18, H22, H24, etc.
Thickness (mm): 0.10-0.45
Width (mm): 100-2650
Length (mm): C
Typical products: thermal insulation in power plants and chemical plants, flexible connections for power batteries, aluminum-plastic panels, lighting materials, capacitor casings, etc.
Aluminum coil offered by roll of aluminum coil factory is a new type of exterior decoration material, which integrates heat preservation and decoration. The aluminum coil is beautiful and durable, and the overall performance is good. It overcomes the problem that the thermal insulation material and the decorative surface material cannot be closely combined, makes the thermal insulation material and the decorative surface material tightly combined, is not easy to fall off and loose, and improves the wind resistance and flatness of the decorative surface.