The 5 bar diamond plate aluminum is mainly used for non-slip and anti-skid on the ground, such as elevators, footboards, movable room floors, vehicles, ships and other industries. Haomei Aluminum is a professional aluminum diamond plate manufacturer who supply 1060, 3003, 5052 aluminum tread plate with thickness of 0.66-10mm, width 1000-1220mm, we can provide anodizing treatment on the diamond aluminum plate and has a longer service life. Besides Haomei provide orange peel embossed aluminum coil, pebbles embossed hammered mirror reflection aluminum plate and aluminum coil, rhombus embossed aluminum sheet, semi-circular spherical pressed aluminum plate. Various widths and lengths can be processed to length.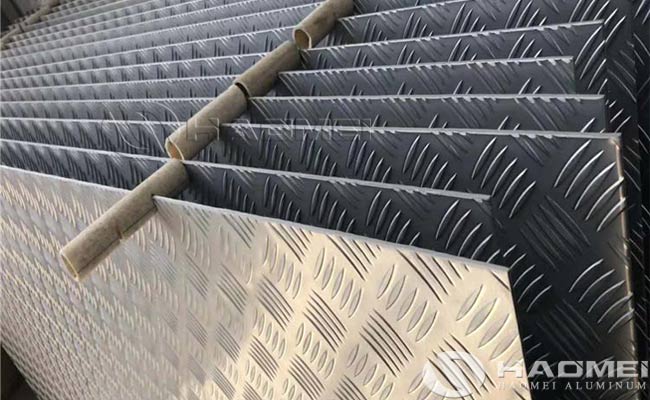 The 5 bar diamond plate have light weight, the density of aluminum diamond plate is relatively small, compared with other products of the same thickness and rigidity, the weight is much smaller. The diamond aluminum plate has the advantages of novel shape, long service life and good anti-skid effect. Diamond aluminum plate is mainly used in anti-skid flooring, decoration and decoration fields such as construction, vehicles, ships, etc. Haomei Aluminum adopt double-level leveling machine for processing aluminum tread plate 5 bars, first from the roughing mill and then from the finishing mill, passes through two sets of 16 rollers. The produced aluminum diamond plate has high flatness, quality assurance, and can be used with peace of mind.
The application of 5 bar diamond plate is very wide. The 5 bars pattern of aluminum tread plate is widely use, in addition, three bars and diamond patterned aluminum tread plates are all common varieties. The aluminum tread plates can be seen in the fields of construction, transportation, decoration, and refrigeration equipment.