The coating of colored aluminum sheets manufacturers production process usually adopts fluorocarbon paint (PVDF), but also can use PE paint. Compared with these two materials, the life of color coated aluminum sheet using fluorocarbon(PVDF) material will be longer. Common color coated aluminum sheets include monochromatic pre-painted aluminum sheets, imitation stone grain aluminum sheets, wood grain aluminum sheets and brushed aluminum sheets. Brick patterns, camouflage, chameleons and other patterns can also be customized.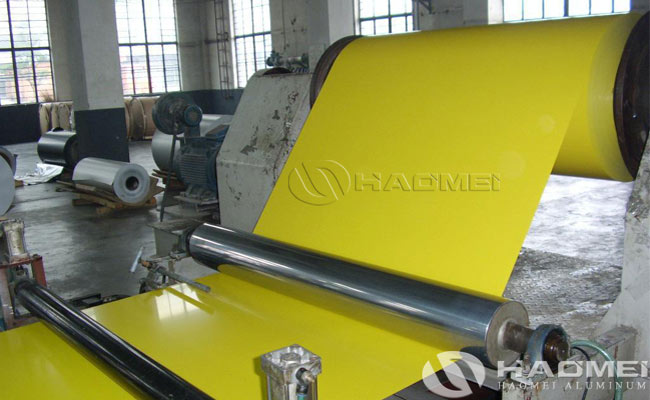 The colored aluminum sheets manufacturers uses 1000 series and 3000 series alloy aluminum sheets as the substrate, and undergoes pre-treatment processes such as water washing, pickling, and chromization, and then drying after multiple roll coatings. The process of roller coating is pressurized printing coating, which has stronger adhesion and abrasion resistance. Therefore, the roller coating adopts the two-coating and two-baking process to meet the ultra-long service life of more than 20 years, and the paint utilization rate during roller coating production reaches more than 99%, which is a high-efficiency, energy-saving and environmentally friendly product with low construction cost. The color coated aluminum sheet produced by Haomei Aluminum is sold directly by the factory, with no middlemen, low price and good quality.
As a new type of material, colored aluminum sheets manufacturers product has a wide range of uses. 0.2mm-0.5mm thickness roll-coated coils can be processed into aluminum-plastic composite panels, which can be used as decorative panels for exterior and interior curtain walls of buildings. Aluminum-magnesium-manganese roof panels are also a kind of roll-coated aluminum sheet, usually with a thickness of 0.5mm-1.2mm, and are used in roof and roof wall system engineering. The thickness of 2.0mm-4.0mm can be used as aluminum veneer after cutting and sheet metal, which can be used in passages, subway stations, airports, railway stations, large shopping malls, high-speed rail and other places, etc., and its use is more extensive.