As a leading white aluminum sheet supplier, Haomei Aluminum is specialized in color coated aluminum sheet producing and exporting. The coating of the color coated aluminum sheet not only plays a protective role but also increases the decoration, and the color is durable and not easy to fade. The surface of different white color coated aluminum sheet can also be embossed and printed with different types of colors and surface structures.
Color-coated aluminum coils have too many colors, so generally white aluminum sheet supplier do not have stock. The colors of prepainted aluminum sheet can be customized according to the RAL color card or other standard color card numbers, and can also be processed according to samples. Therefore, color coated aluminum sheet require certain processing Delivery can only be made within a short period of time. The user should consider the processing time when ordering, and try to order in advance to avoid too late for the processing time.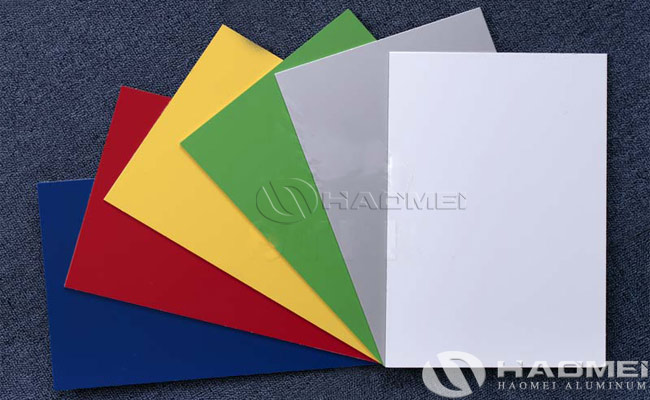 The processing cycle of PVDF white color coated aluminum sheet is generally longer, mainly because the fluorocarbon paint uses Nippon Paint, and Nippon Paint is all standardized, and the laboratory data is stable and then the color will be adjusted. Fluorocarbon color-coated aluminum coils generally take around 15 days to produce and delivery. Of course, if the thickness and specifications of the color coated aluminum coils are conventional products, and our company has ready-made inventory, the delivery time can be shortened to around 7 days.
The white aluminum sheet supplier processing cycle of polyester PE color coated aluminum sheet is slightly shorter, because the color mixing of polyester paint is relatively simple, and the manufacturer of polyester paint is relatively more. Generally, the processing cycle of color coated aluminum coil of polyester paint is about 2 days faster, the main reason is that the time for color adjustment is shorter.