Painted aluminum coil factory Haomei supply 3003 3004 color coated aluminum coil with PE PVDF paint also mirror or embossed surface. Painted aluminum coil is a deep-processed product of aluminum alloy sheet coil. Some people will say that painted aluminum sheet is pre-painted aluminum sheet, it is only a word difference, but it is actually two different name of the same product. Painted aluminum coil is also called paint aluminum sheet, it is an aluminum sheet that has been treated before acid, alkali, and chromium. The color and pattern are rolled onto the aluminum sheet coil through a rolling paint roller, and the paint is cured by baking.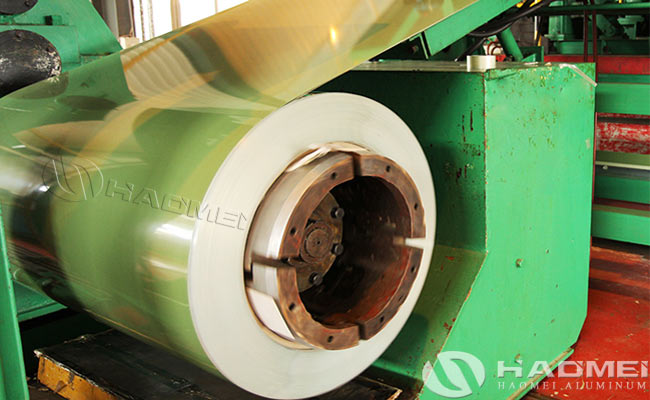 The painted aluminum coil factory generally use high-quality alloy aluminum coil of series 1000, series 3000, etc., and the flat aluminum coil is baked at high temperature to fully release the internal stress of the aluminum sheet. Roll-coated aluminum coil sheet metal forming adopts a surface non-welding production process to avoid high-temperature welding deformation. Therefore, the flatness of color coated aluminum coil is very high. Sheet roll coating makes the sheet metal more efficient and saves costs. Common roller-coated aluminum coil include stone-grain roller-coated sheet, wood-grain roller-coated sheet, wire-drawing pre-rolled sheet, monochromatic roller-coated sheet, chameleon roller-coated sheet, camouflage aluminum sheet, and small grass/flower aluminum sheet.
Painted aluminum coil factory Haomei Aluminum can produce color painted aluminum sheet of various colors. Including stone grain, wood grain, pattern, single color and other types of coated color aluminum, embossed color coated aluminum, brushed aluminum and other products.