The mirror aluminum coil exporter HAOMEI can provide mirror finish aluminum prepared by rolling technology within standard. Polish the surface of the aluminum coil by polishing equipment, so that the surface of the aluminum coil is flat and the brightness is as clear as a mirror. High quality mirror aluminum sheet products are widely used in decoration projects such as building decoration, elevator decoration, industrial decoration, and facility decoration. The color aluminum mirror sheet is re-colored on the basis of the aluminum mirror sheet. Now the high-end color aluminum mirror coil is processed by vacuum ion plating technology. It is even possible to perform pattern etching on the mirror aluminum sheet, various patterns and styles of pattern etching plates can be obtained.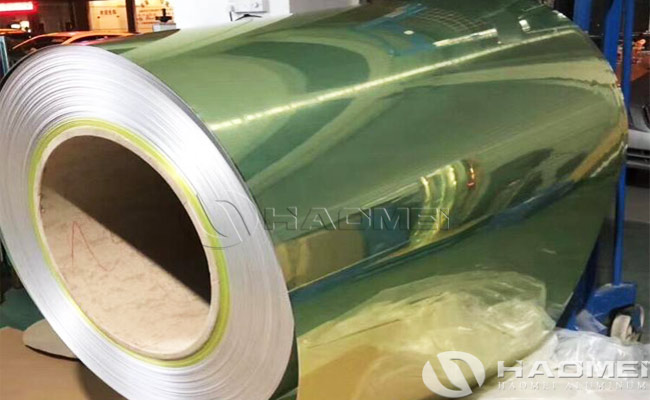 As an experienced mirror aluminum coil exporter, Haomei Aluminum's product are widely used, and is often used in furniture materials, interior decoration materials, electronic products and other places. It is a material with relatively strong practicability. The processing method of mirror aluminum sheet coil is to first roll the aluminum and aluminum alloy billets on a four-roll cold rolling mill for multiple passes, and then replace the mirror roller. The mirror roller is a chrome-plated roller, which can effectively improve the mirror effect of the aluminum coil. The yield rate is increased, the life cycle of the roll is long, and the production cost is reduced.
The product of mirror aluminum coil exporter are usually sold to lighting lamp reflector and lamp decoration, solar heat collecting and reflecting material manufacturer. The mirrored aluminum sheet with a reflection of 85% is widely loved by manufacturers in the lighting industry. The surface quality requirements of mirror finish aluminum sheet coil are:
1, The surface treatment of the mirror aluminum sheet requires the mirror surface to be coated with protective film, the total reflectance of the mirror surface is ≥86%, and the color is required according to customers.
2, The surface of the mirror polished aluminum coil appearance must not have scratches, scratches, bumps, cracks, blisters, stains, unevenness, distortion, sand holes, marks, corrosion and other defects that are harmful to use, and there must be no oxidation.