Aluminium chequered plate 1mm thick refers to the aluminum plate with patterned surface, and the thickness is 1mm. Although the production process is relatively complex and the cost is high, this aluminum chequered plate is still popular in the market. The main reasons are as follows: on the one hand, aluminum checker plate has beautiful appearance, many different pattern types and strong decoration. On the other hand, aluminum tread plate has outstanding anti-skid effect, and has good application effect in some special environment such as carriage.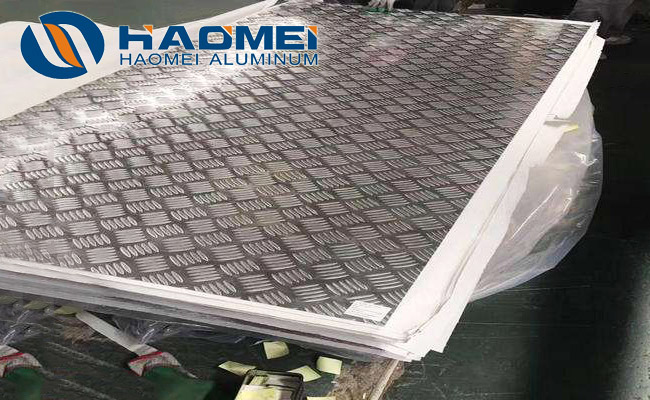 According to different alloy composition, aluminium chequered plate is divided into ordinary aluminum checker plate (mainly 1000 series aluminum tread plate), 3000 series aluminum manganese alloy and 5000 series aluminum magnesium alloy. Because different industries have different requirements for aluminum tread plate embossing type and performance, different series should be selected in the selection. For example, 1060 checkered aluminum plate is generally suitable for cold storage and vehicle floor, and the later processing cost is relatively low. 3003 aluminum chequered plate has the advantages of high strength, strong impact resistance, and excellent anti-corrosion and anti rust ability, which is most used in the car body of the train carriage. 5052 aluminum chequer plate has the characteristics of high strength and hardness, and also has strong corrosion resistance and rust resistance, so it is commonly used in the shipbuilding and aerospace industry.
The aluminium chequered plate 1mm thick is beautiful in appearance. At ordinary times, regular maintenance and cleaning should be paid attention to to to keep the aluminum plate clean and avoid corrosion. In recent years, the demand for aluminum plates in all walks of life has been expanding, which has also stimulated the growth of demand for aluminum tread plates.