The raw materials of aluminum sheet for roofing are 3003 aluminum sheet, 3004 aluminum sheet and 3105 aluminum sheet, which are rolled and cold-formed into a corrugated aluminum plate. Aluminum corrugated sheet for roofing is very common in building exterior walls and roofs because of its excellent characteristics. 3000 series aluminum alloy is also called aluminum-manganese alloy. The content of manganese element is 1-1.5%. It is a widely used anti-rust aluminum alloy series. The strength of 3000 series aluminum alloy is higher than that of pure aluminum alloy, although it cannot be heat treated to strengthen the performance. , but it has good plasticity after cold working (supercooling mill rolling) and annealing process. Because of its good corrosion resistance and welding performance, it can be used in many industries, such as building decoration industry.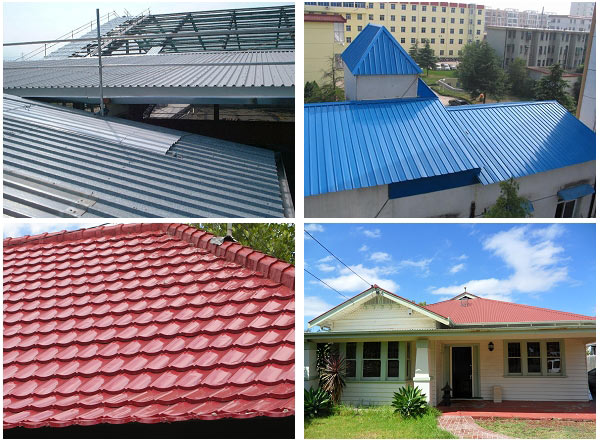 The 3003 aluminum sheet for roofing is easy to process and has good rust resistance. It can be painted with color paint on the surface of the original aluminum to make various decorative curtain wall panels, as well as indoor aluminum ceiling gussets. It can also be bent by a tile press to make roof color aluminum tiles. The aluminum roofing sheet is lightweight and durable, its life is better than steel. 3004 aluminum sheet is a commonly used building material, belonging to AL-Mn series alloy, it is a widely used anti-rust aluminum, with good formability, weldability and corrosion resistance, and its strength is higher than that of 3003 aluminum plate.
Aluminum sheet for roofing is an environmentally friendly material. The corrugated plate made of 3000 series aluminum sheet has the characteristics of high strength, light weight, earthquake resistance and fire resistance, rich color, convenient installation, corrosion resistance and long service life. It has been widely used in industrial and civil applications. In buildings, warehouses, special buildings, roofs, walls and interior and exterior wall decoration of houses.