China large aluminum plate can be large as width 2650mm and length of 6000mm, and the size of aluminum plate is a signal of production strength. The international standard widths of aluminum plate are 1000mm, 1220mm, 1250mm. We usually define aluminum plates with a width of more than 1500mm as ultra-wide aluminum plates. Haomei Aluminum owns the SMS 2800mm six-roll cold-rolled and produced hot-rolled aluminum plates 0.3mm thick, the width of the finished product can reach 2650mm. Haomei Aluminum is one of the few aluminum plate manufacturers that can produce ultra-wide aluminum plates in China.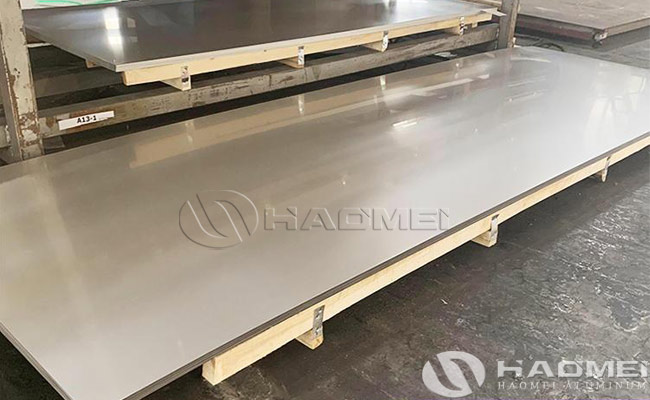 The large size aluminum plate produced by Haomei Aluminum not only has a better shape, a smoother and finer surface, a smaller thickness tolerance, and a better deep drawing and oxidation effect. After testing, all indicators far exceed the national standard. The ultra-wide large aluminum plate product are widely used in wide-width curtain wall panels, automobiles, ships, bus bars, silos, fuel tanks, antenna pot materials, LNG storage tanks, aluminum bottle caps, molds and other fields.
The production of ultra-wide china large aluminum plate is different from conventional products. The first choice is due to the large width. Therefore, most of the production of ultra-wide aluminum plate requires ingot casting or processing of cast-rolled coils. This period will take about 5 days. Rolling mills and cold rolling mills are used for processing. Haomei Aluminum's current hot rolling equipment has a width of 3000mm, and the widest cold rolling equipment is 2400mm. After rolling and trimming, a hot-rolled plate (above 8mm thick) with a width of 2800mm can be obtained, the cold rolled aluminum plate is 2250mm, which is the current production status of our company's large aluminum plate.
In terms of quality, china large aluminum plate can meet general industrial requirements (except for aerospace). The Haomei Aluminium is equipped with large-scale straightening equipment and surface treatment equipment. The ultra-wide aluminum plates produced are comparable to similar imported products in terms of flatness and surface quality, and is export to European and American countries.