Coated aluminum sheet supplier Hamei Aluminum engaged in color coated aluminium processing or decades of years. Color coated aluminum is widely used in insulation panels, aluminum curtain walls, aluminum-magnesium-manganese roof systems, aluminum ceilings and many other fields because of its light texture, bright colors, easy processing and molding, and no rust. Color coated aluminum sheet is long-lasting and durable, and the special-treated color coated aluminum coil can even have a long-term warranty of 20 years and 30 years. The many advantages of colored aluminum are inseparable from its special production process.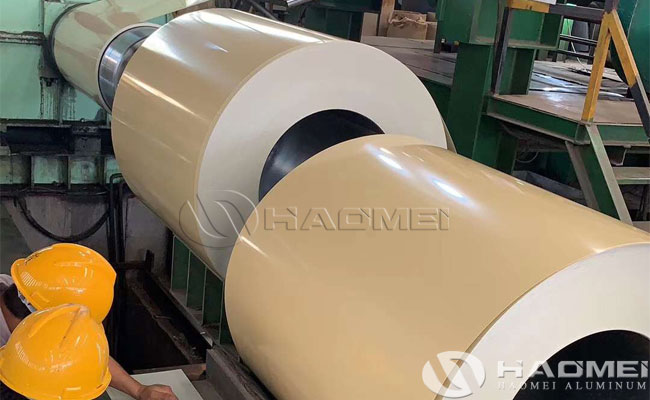 From a microscopic point of view, there are many pinholes in the coating, and the size of the pinholes is large enough to allow external corrosive media (water, oxygen, chloride ions, etc.) to penetrate into the color coated aluminum sheet, causing filiform corrosion under a certain relative humidity. The thicker the coating, the fewer pinholes, and the better the corrosion resistance of the substrate. Different coating thicknesses affect the corrosion resistance, when the coating thickness is above 20μm, the anti-corrosion effect is relatively stable. The coating layer can be made into a variety of colors to develop pattern designs that match the purpose. In addition, it also provides patterns of granite, wood grain and metal, etc., which are not available in monochrome, with precise texture and high quality pattern design.
Since the roller coated aluminum sheet is a new type of material, the number of coated aluminum sheet supplier is not large. Haomei Aluminum is a strong prepainted aluminum sheet manufacturer in Henan. The equipment investment is 245 million yuan and the annual output can reach 1.5 million square meters. It can be customized according to samples and supports processing with supplied materials. The product quality is good, the production efficiency is high, and the delivery time is short.