Diamond aluminum sheet manufacturer produce common types of aluminum checkered plates like three bars, five bars, diamond type, etc. The application of aluminum checkered plates in daily life is very common, and aluminum diamond checkered plates can be seen in the fields of construction, transportation, decoration, and refrigeration equipment. And are . So how to choose diamond aluminum checkered plate?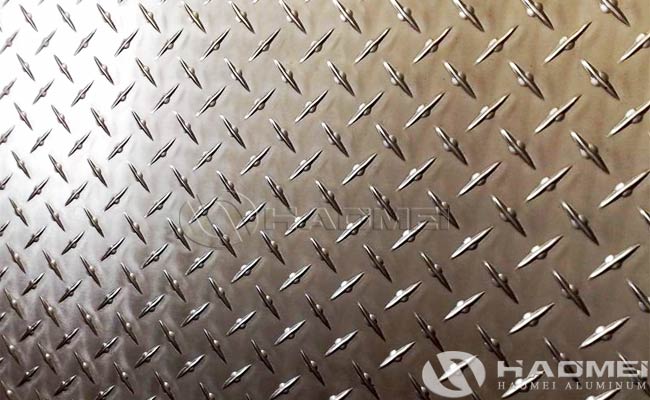 1, Thickness
The thickness, strength, and oxide film thickness of the selected high-quality diamond aluminum plate should conform to the national standards: aluminum plate thickness ≥1.2mm, tensile strength ≥157 N/mm2, yield strength ≥108 N/mm2, oxidation Film thickness ≥10 microns. If it does not meet the specifications, it is a low-quality aluminum checkered plate.
2, Price
Aluminum checkered plates are divided into two types, pure aluminum and alloy, and their prices are naturally different. The processing cost of aluminum checkered plates consumed by normal diamond aluminum sheet manufacturer is several thousand yuan per ton, and the price of alloy diamond aluminum plate is higher than that of pure aluminum. The price of aluminum diamond plates of normal manufacturers is about 20%-30% higher than that of inferior aluminum plates. When purchasing, an enterprise must not simply compare prices. If it buys substandard products, it will be too late to regret.
3, Processing
The aluminum diamond plate produced by the big factory on the right track is made of exquisite materials, the surface of the diamond aluminum plate is bright, the pattern is clear and uniform, the aluminum plate is flat, and the appearance is free of oil, scratches and breaks. The aluminum checkered sheet consumed by the small factory is made of scrap aluminum. The data is dull, the pattern is not clear and uniform, the board surface is uneven, the performance is not up to standard, and the quality is poor.
4. Service
From the production line of the diamond aluminum sheet manufacturer to the workshop of the enterprise, there are many links in the middle of packaging, loading, transportation, storage, and unpacking. The aluminum checkered plate will inevitably show defects such as oxidation and scratches. The user provides refund and exchange services to deal with the worries of the user.