The painted sheet aluminum is processed by pure aluminum coil after cleaning, chromizing, roller coating, baking, etc. The surface of the prepianted aluminum coil is attached with various colors of paint coating, which is the color coated aluminum coil. Color painted aluminum sheet is widely used in insulation panels, aluminum curtain walls, aluminum magnesium manganese roofing systems, aluminum ceilings and many other fields because of its light texture, bright colors, easy processing and molding and not easy to rust.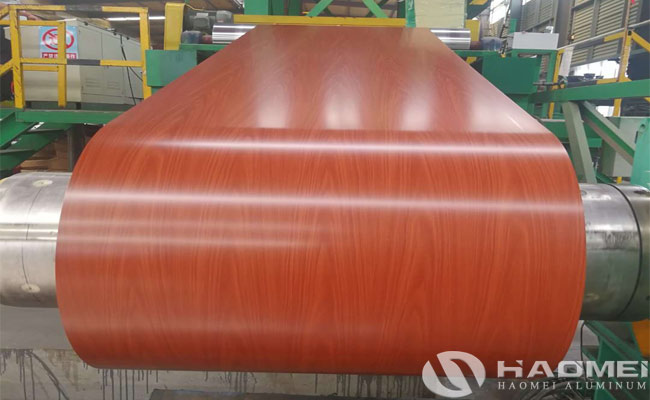 According to production process and purpose of usage, the painted sheet aluminum can be simply divided into: surface coating paint, which is divided into polyester (PE) coated aluminum coil and fluorocarbon (PVDF) coated aluminum coil; epoxy rollers coated aluminum coil. Of course, there are cases where one side is coated with fluorocarbon and the other side is coated with polyester; there are even cases where both sides are coated with fluorocarbon.
The thickness of the coating of painted sheet aluminum can be divided into single coating (4μm-20 μm); double coating (25μm-28 μm) and 3 coating (35μm-38μm). The surface of color coated aluminum sheet has various patterns, which are also called wood grain coated aluminum coil and stone pattern coated aluminum coil, brick pattern, camouflage coated aluminum coil, fabric coated aluminum coil, etc. Because of different uses, we are usually used as roofing materials (aluminum-magnesium-manganese roofing system), ceiling materials (aluminum alloy ceilings), and wire-drawing plates (surfaces are drawn processing) etc.