Powder coated aluminium for gutters are used to manufacture aluminum alloy gutters and aluminum alloy downpipes. 3105 H24 and 3003 H24 aluminum alloys with powder coated are used. Both sides of the powder coated aluminum coils are coated with polyester (PE) paint. The front surface is 25-28 um, the back surface is 15-18 um thick and the color is durable. Powder coated aluminum coil for gutters has good mechanical properties ensure that Weituo color-coated aluminum coils are easy to bend, weld, and rail-form during processing, and become an ideal raw material for aluminum alloy gutter (sink) and downspout manufacturers at home and abroad.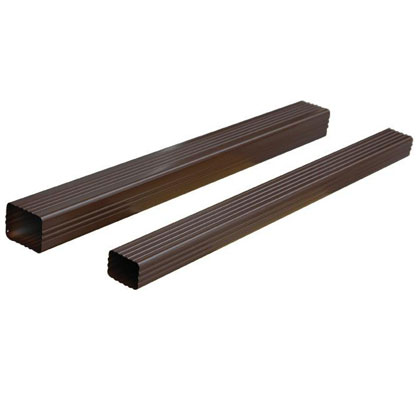 The colors of powder coated aluminium for gutters are white, ivory white, terracotta color, dark brown, European brown, bronze black (customizable). Aluminum alloy gutter drain system is widely used in the United States and Canada for its hyperbolic appearance, long service life and convenient installation. The use of aluminum gutter coil products greatly increases the force safety, and has fewer configurations, which reduces the total cost in an all-round way and is more cost-effective.
Due to poor weather resistance, traditional iron sheet gutters and other products often cause problems such as rust and breakage. They are gradually replaced by new powder coated aluminium for gutters systems, and their service life is gradually improved.
First of all, the metal type falling water system, its load-bearing capacity and waterproof effect, are relatively advantageous, and are more commonly used in steel structures and concrete roofs.
Secondly: the tensile and compressive strengths of the color coated aluminum falling water system are better than those of the ordinary type of falling water system, with strong weather resistance and good load bearing.
Again: it is an environmentally friendly and non-polluting green material, which is fireproof, odorless and anti-oxidative.
The last: The construction is simple, and the falling water system produced now is reasonably matched, so that every detail is interlocked, there will be no water leakage, and the service life is more than 50 years.