The hairdressing foil is also called as aluminum salon foil, which is used to perm and dye hair. Hairdressing aluminum foil is known as "tin foil perm", in the hairdressing industry. During the operation, the hairdresser picks up a little hair each time, touches the medicine, and wraps it with aluminum foil. According to the different styles and types of hairdressing, wrap the hair strands one by one until the desired shape is achieved, and then proceed to ironing or other steps. After ironing with hairdressing aluminum foil, the hair strands are in strands, and the strands are curled freely, free and not messy.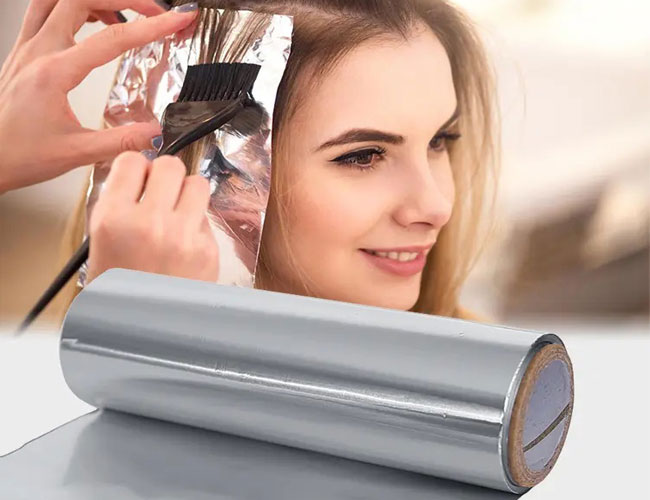 Existing aluminum hairdressing foil are all composed of aluminum foil sheets with a thickness of less than 0.1 mm. Therefore, it is quite soft and easy to deform. When it is inserted into the hair, it is convenient for the operator to wrap the hair, and at the same time, it ensures that the wrapped aluminum foil is flat and does not overlap, thereby improving the hairdressing effect. The specification of hairdressing aluminum foil produced by Haomei Aluminum are:
Alloy: 1235, 8011
Temper: O
Thickness: 0.012-0.025mm
Width: 120-200mm
Type: in rolls or cut into aluminum foil sheets
The hairdressing foil is commonly seen in our daily life, together with food container aluminum foil, household aluminum foil, cigarette aluminum foil and yogurt lid aluminum foil. Main features and advantages of hairdressing aluminum foil are:
1, Suitable for hair bleaching and dyeing in various hairdressing industries;
2, Perfect color, no fading, bright and uniform;
3, Soft and elastic thin material with strength;
4, Can be made into rolls or sheets;
5, Can be embossed or printed in different forms and colors;
6, Anti-leakage, anti-corrosion, high temperature resistance;
7, Environmentally friendly, easy to recycle.