Aluminum shipbuilding plates generally need to have superior corrosion resistance properties. 5000 series aluminum plate is the aluminum alloy with strong rust resistance and corrosion resistance, so it is used more on shipbuilding. Our common marine grade aluminum plates for shipbuilding are 5052, 5083, 5086, 5383 and 5059. There is more water on ships, so marine grade aluminum checker plates are also a necessity for shipbuilding aluminum plates. As a shipbuilding material, aluminum alloy plates have many superior properties and is increasingly used in the shipbuilding industry. Ships are developing towards aluminization, and marine aluminum alloys are promising materials.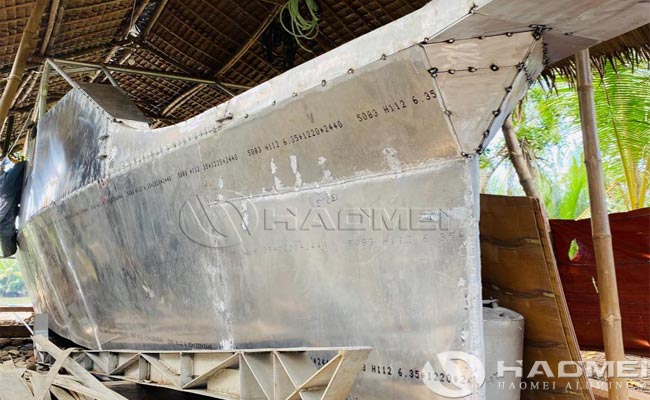 Generally, when comparing the quality of marine aluminum shipbuilding plates, it will also check whether the aluminum plate manufacturer has a classification society certification, such as CCS, DNV, ABS, LR, KR and BV certificates. It is more reliable to choose a large marine grade aluminum plate manufacturer. The detailed application of aluminum plates for shipbuilding are:
5083 aluminum plate: mostly used as ship plate, deck plate, the tempers are H111, H112, H116 and H321.
5052 aluminum plate: the strength is lower than 5083, and it is mostly used for small ships or ship accessories;
5086 aluminum plate: more applications in shipbuilding;
Anti skid aluminum plate: 5083 aluminum checker plate, used in the deck for non slip effect.
Aluminum ship boats are one of the most typical types of yachts, and are also more popular. So why are aluminum alloy boats so popular?
1, Light weight and fast speed.
By using shipbuilding plates, the weight of the aluminum alloy ship boat is much lighter than that of the glass fiber reinforced plastic hull and the steel hull, and the strength is very good, which will not affect the net load of the hull. The reduction of the hull weight has greatly improved the speed and fuel economy of the aluminum alloy boat.
2, Good practicability and long life.
Aluminum alloy boats have good practicability and have a very long life. Ship inspection stipulates that the service life of aluminum alloy boats is 30 years.
3, Impact resistance.
The impact resistance of aluminum boats is stronger than that of FRP boats and steel boats. This will become more and more obvious as the service life of the aluminum ships increases. Aluminum alloy materials have great advantages in impact resistance and corrosion resistance.
4, The production is quick and convenient.
Aluminum alloy ships are easy to weld and can be customized according to customer requirements.