Haomei Aluminum can produce colored white aluminum sheet with a thickness of 0.25-3.5mm and a width of 1700mm, wood grain color coated aluminum coil, marbled color coated aluminum coil and so on. We equipped with automatic color coating roller, printing production line and various automatic embossing, automatic slitting and other auxiliary equipment, the coating process adopts precision mirror steel roller coating. The white painted aluminum sheet product has good gloss, adhesion and corrosion resistance.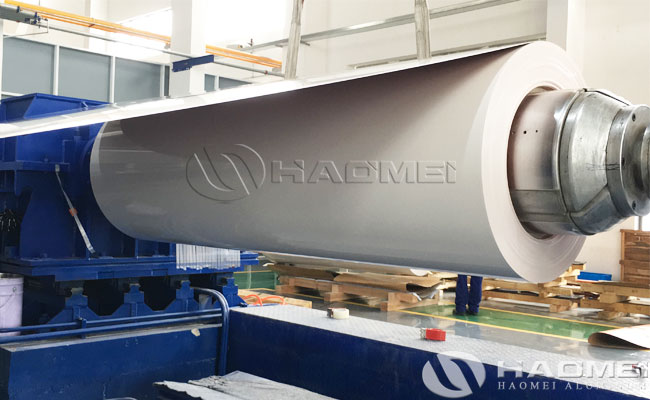 The white painted aluminum sheet in RAL color card is 9000 series, the common seen color code is RAL9006, RAL9007, RAL9016 and so on. The white color coated aluminum sheet products are mainly used in aluminum-plastic panels, aluminum honeycombs, roof panels, air-conditioning shell panels, fire-resistant veneers, aluminum ceilings, shutters, rolling shutter doors, garage doors, etc. In addition, it is also used in many fields such as electronic appliances, instruments, lighting, packaging and so on.
The specification of color coated white aluminum sheet are:
Material: AL1100, AL3003, AL3004, AL3105, AL5005, AL5052
Coating: Fluorocarbon Coating, Polyester Coating, Wood Grain, Printing, Clear Lacquer
Thickness: 0.25mm-4.00mm
Processing width: color coated aluminum coil 150mm-1500mm; color coated aluminum sheet 800-1750mm
Core diameter: 150mm, 405mm, 505mm, 508mm, 510mm
Coating thickness: PVDF (fluorocarbon) >=25micron POLYESTER (polyester)>=18micron
Gloss: 10-90%; Coating Hardness: Greater than 2H; Adhesion: Not inferior to Grade 1
Impact resistance: 50kg/cm, no paint peeling and no cracks, polyester color is used for 20 years, fluorocarbon is used for 30 years without decolorization and paint peeling.
We can color according to Chinese architectural color card CBCC, RAL and Pantone color card or customer samples. Executive standard: YS/T431-2009.