Aluminum slug china exporter supply aluminium slugs pure aluminum 1070 for making cans, bottles, tube used for packaging purpose. Haomei is a famous China aluminum slug exporter, we have good reputation from our customers for high quality, low price, fast production and safe delivery. The aluminum slugs we produce are widely used in aluminum bottles packaging for liquids, lotions, creams, cosmetic packaging, daily chemical packaging, edible flavoring packaging, chemical product packaging, pharmaceutical packaging, health care packaging, toothpaste tube, hotel Room supplies packaging, etc.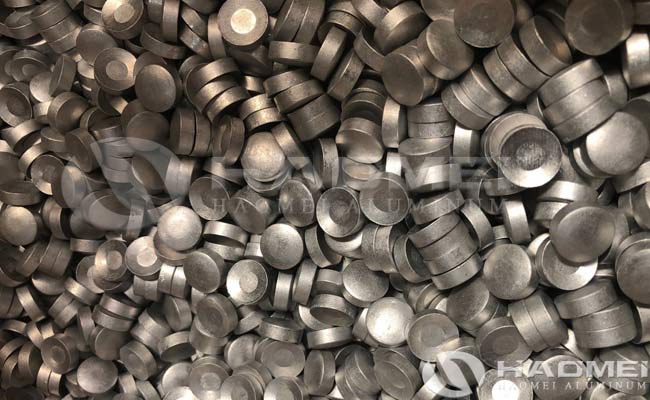 The 1070 aluminum slugs is produced by punching extrusion press processing method, the mechanical press/crank press, open tilting press, open fixed press, closed single/double/four point press, four column liquid (oil) presses, etc. The stamping process is carried out by the aluminum blank material is pressed into a aluminum coil, then unwinding - blanking - punching into the aluminum slugs we need.
Aluminum is the most commonly used metal. Aluminum material does not rust, its oxide is non-toxic, has good light-shielding properties, and has excellent moisture and gas barrier properties. Aluminum slugs supplied by aluminum slug china exporter has no resilience, high thermal conductivity, good ductility, airtightness, and adequate protection for drugs and cosmetics. Aluminum as a packaging has effectiveness, safety, stability (physical, chemical, microbiological), uniformity, airtight, non-polluting, aluminum packaging with internal spraying does not react with the packaged content.